Santorini is definitely a bucket list destination for many people because of the beautiful locations this place can offer including all amazing sunsets and unique landscapes that just make the perfect escape. We know that sometimes searching where to stay may be difficult because of the different cities located on the island and that the island offers too many options, therefore we've put together this ultimate guide for figuring out where to stay in Santorini to help you find the right place to stay during your trip.
Three Major Tourists Areas in Santorini
You should be aware that Santorini has three major areas that tourists consider when visiting Santorini. However, where to stay depends on a few factors. Those might include price and personal preferences. If you would like to learn more about the different areas we have explored as well as what they could offer, and maybe which is the best for you, keep on reading. We have also created an Ultimate Santorini Travel Guide which you can read here.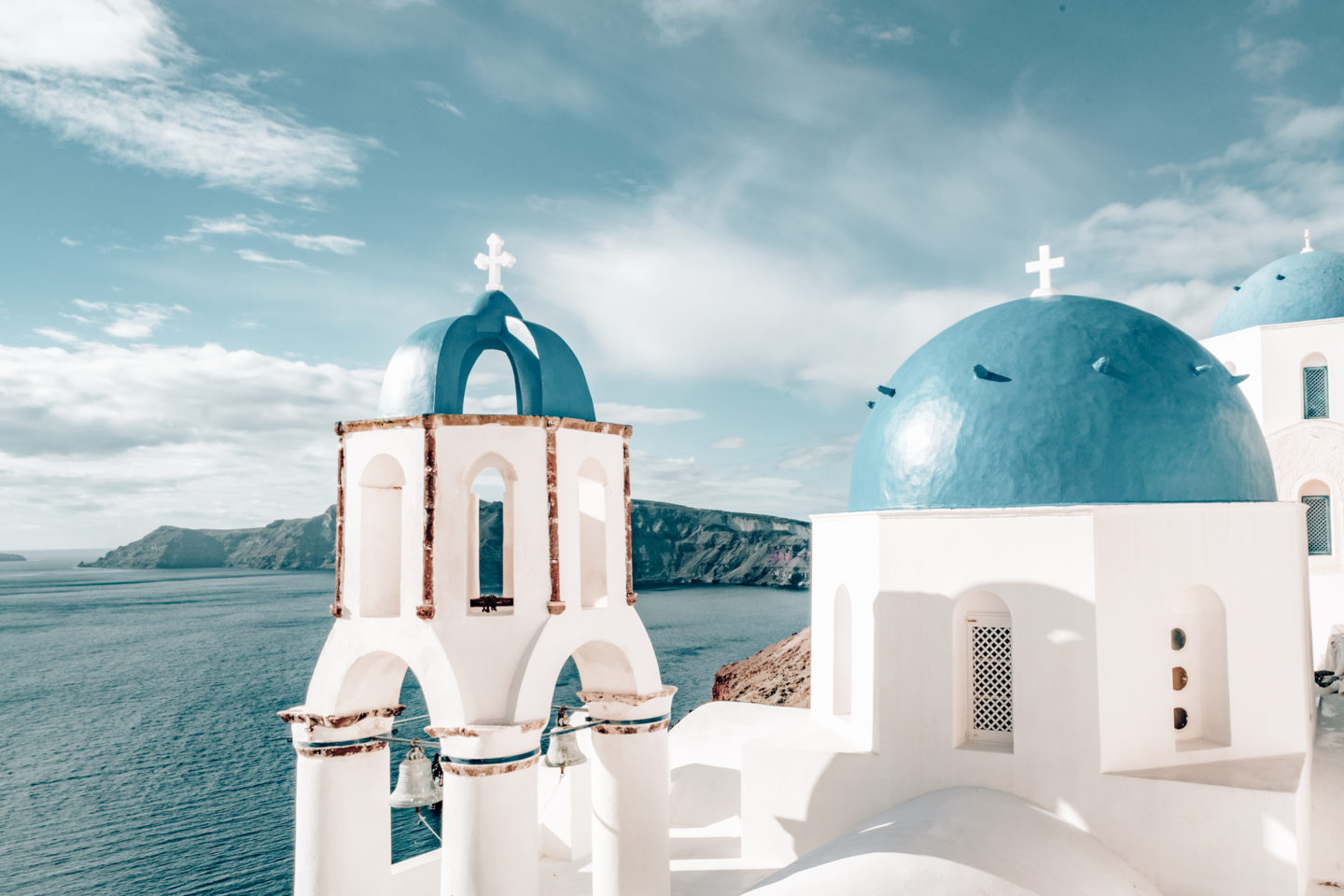 Greece is made up of over 6,000 total islands in the Aegean Sea, which is an elongated embayment of the Mediterranean Sea, and one of the most popular islands is Santorini. This island, originally formed from a volcano off the coast, is a dreamy location and a top place to visit for a 99% of all Instagrammers. Oia, Fira and Imerovigli are the main cities of the island and therefore we will share with you some of the advantages and disadvantages of all of them including the best places you can stay in.
Let's talk about Oia
If you are keen on exploring luxury places, then Oia is definitely the place for you. Oia, pronounced ee-yah, can give you an opportunity to enjoy a luxury cave house/hotel with a Caldera view.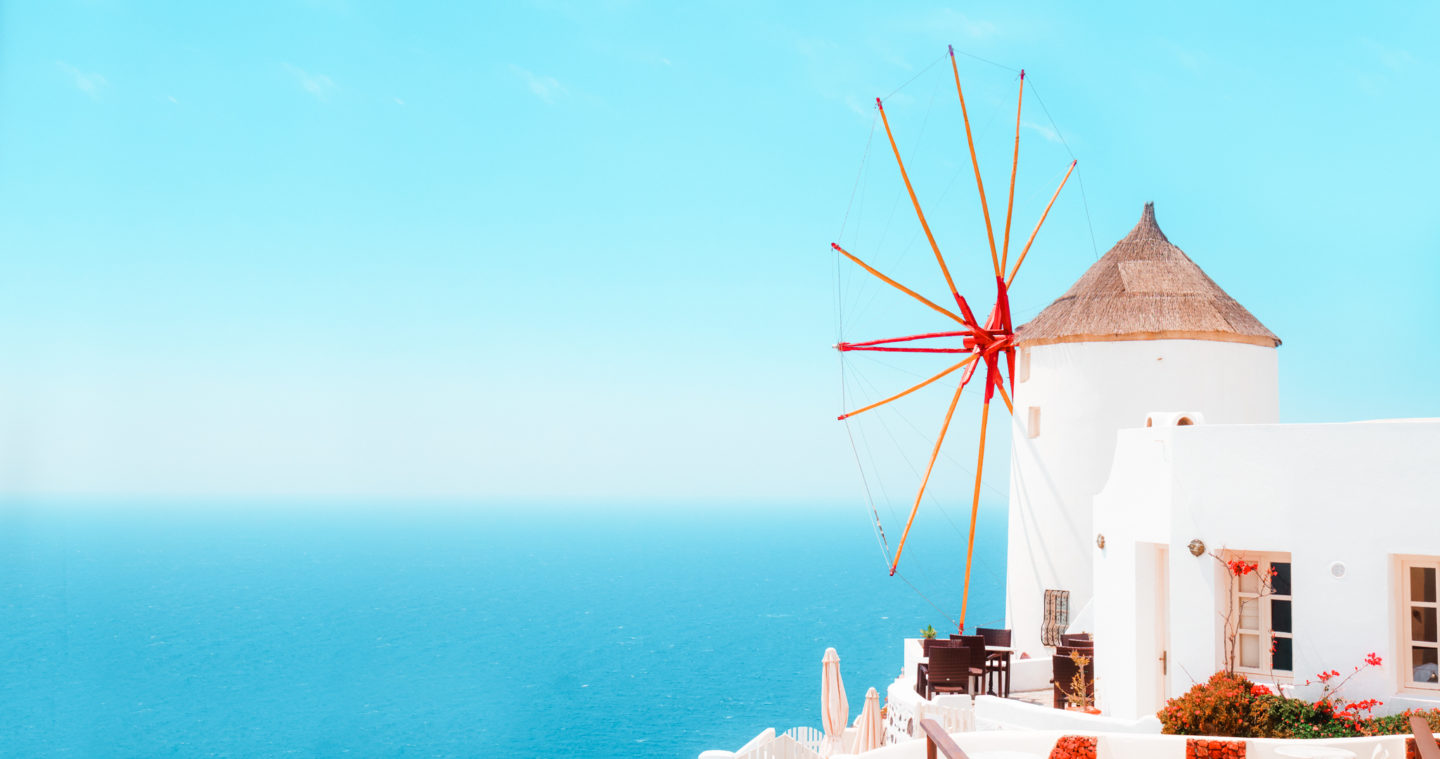 Best for: A picture-perfect Santorini experience
Why you should visit?
Picturesque white buildings hanging off the rocky cliffs of Santorini and the blue dome churches.
Most Popular Destination on the Island
Right in the centre of everything
Oia is where the best view on the island is
The best sunset can be seen from here
Most of the caves/hotels have a private hot tub or pool
Most of the hotels serve your breakfast on your private patio overlooking the Caldera
What to be aware of?
The most Expensive Resort on the Island
Incredibly busy around sunset – between 4 pm and 8 pm every evening
Little privacy as accommodations are situated close together in narrow, pedestrian walkways
Sometimes people might even get on your roof to take a picture
A lot of stairs, and when I say a lot, this means A LOOOOOT!
Extremely Walkable Area
Not a lot of Night Life but a lot of Posh Restaurants
Forget about your four-wheelers
Overall, Oia is the best place to visit while in Santorini if you don't mind all above.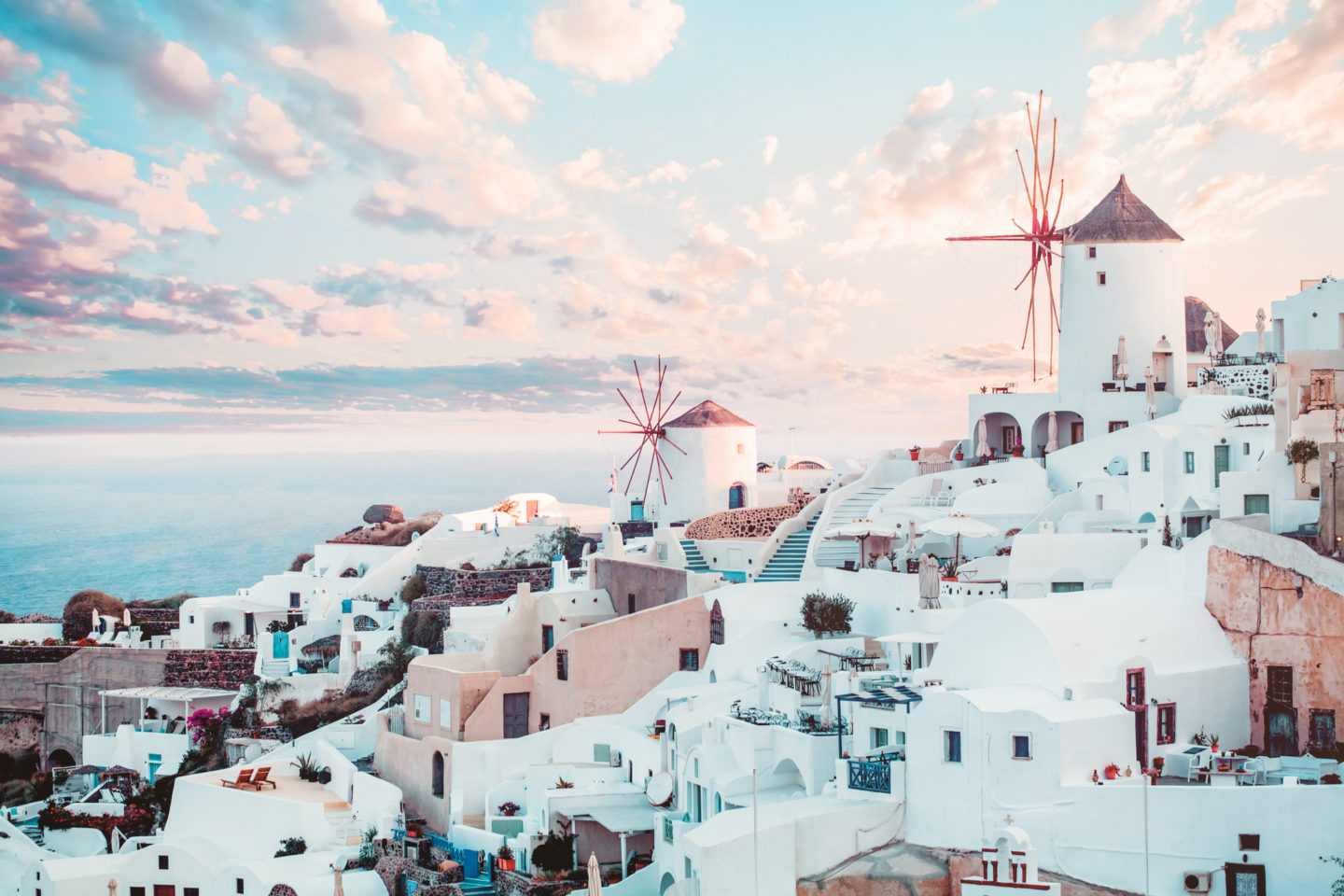 Best Hotels in Oia
£££
££
Fira, the capital of the island
Fira is not only the capital of Santorini but also the biggest town on the island. Compared to Oia, where you would be almost impossible to drive, Fira gives you much more confidence in getting into your vehicle. The town offers a lot of restaurants overlooking the Caldera. Not only you can enjoy delicios food on slightly affordable prices for the island, but you can also become part of the nightlife in the city.
Best for: Travel on a Budget
So, what to be aware of?
Lots of nightlife
Not as many restaurants as in Oia, but more affordable prices
Suitable for a car
Should always connect through Fira for your final destination
Might get busy during the day due to the cruise ships dock
Suitable for visiting Santorini on a budget
Suitable for luxury travellers
Best Hotels in Fira
Overall, Fira is a wonderful place to stay in the island. One of the main reasons for this is the affordable accommodation you can find. Keep on reading to find out our further recommendations for hotels in Santorini.
Firostefani
If you are looking for privacy while still enjoying a beautiful view, Firostefani is the perfect place for you. Located only 10 min away from Fira, this small town can offer as beautiful and incredible views as the capital with one difference, less crowd.
Best for: Travellers looking for Privacy
Imerovigli – the best destination for Honeymooners
Imerovigli is also known as "Santorini's Balcony". You can definitely get your car here. Imerovigli is also home to Santorini's most famous hotel, Cavo Tagoo. Over the years, this hotel has become a viral place to stay in Santorini and it is one of the most famous Instagram places worth visiting while here. If you are unable to book a room here, you should at least book a dinner at the Ovac restaurant, where you can enjoy delicious food and an incredible view over the Caldera.
Still expensive but not as much as Oia
More privacy compared to Oia even though it is still crowded
Value for money – just as beautiful views as in Oia
Best for: Honemoon Experiences
Best Hotels In Imerovigli
Santorini is not exactly known about its beaches, but more about the beautiful caldera view that the island can give to its visitors. However, if you would like to explore some of the beaches on the Island, Perissa and Perivolos areas might be perfect for you. If you need just a relaxed vibe and a summer vacation on the beach, you can get it here while enjoying your cocktail at some of the best beach bars in Santorini. The best thing is that the prices are considerably lower than the rest of the island.
Best Hotels in Perissa and Perivolos
Best for: Beach Lovers
Holiday with kids – Kamari is the place for you
Spacious and relaxed, with lots of taverns, cafes and supermarkets
Not so many beautiful views but more privacy
Affordable destination compared to other towns in Santorini
Best for: Family vacation with kids
Best Hotels in Kamari
Where to stay in Santorini on a budget?
Akrotiri – This place is as gorges os other destinations on the island but the disadvantage is that it is around 45 minutes driving from Oia. However, you can find quite good deals here when booking in advance.
Finikia – another beautiful destination which is quite qffordable. Only 10 minutes from Oia, if you want to travel Santorini on a budget, you can book accommodation here while exploring Oia and Fira.
Overall, wherever you are a luxury or a budget traveller you can definitely find your perfect accommodation in Santorini. Booking in advance is always an affordable option. You might also have a look at our Ultimate Santorini Travel Guide here.
Click on the images below to Pin